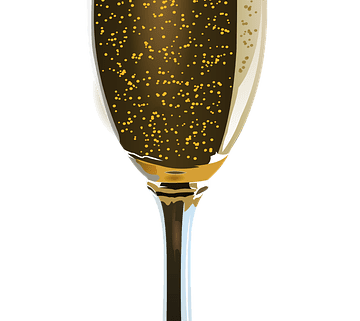 How NOT to write a wedding toast.
Hundreds of weddings after my first one in 1999, one thing that still makes me gasp for air is the moment before the best man or maid of honor gives their wedding toast to the newly married couple.
There have been a lot of great toasts with inspiring messages, heartfelt memories, and some light comic relief. We've seen people rap, sing, and put poetry into toasts. We've seen scenarios acted out broadway style. And everything in between. But, there are those occasions where the line is crossed and things get uncomfortable.
As the couple's best friend, there is no shortage of material. Decades of memories. The good, the bad, and the ugly. You've been through it all with your best friend. Through celebrations, family arguments, breakups, and shenanigans. So what should you talk about when honoring your best friend at their wedding? The answer is, anything you want. Just avoid these few hot button topics when writing your speech.
EXTREME INTOXICATION:
In your younger years and college days, it's not uncommon to throw a few back and live in excess once in a while. But if you and your friend woke up on the front lawn of your frat house wearing but a toga and lipstick… this is probably not the best time to reminisce about it. Instead, think about something their grandma would be proud of.
EXES ARE A THING OF THE PAST. KEEP THEM THERE:
Your best friend may have cut ties with an ex on good terms or on really bad ones. And even if they are still friends with them or are at the very least "friendly" with them, let's not talk about how they had a hard time getting over their boyfriend before they met Mr. Perfect who was supposed to be a rebound relationship until he proved he was worthy of her love for the rest of her life.
IT'S NOT ABOUT YOU, IT'S ABOUT THEM.
It's no secret. People love to talk about themselves, how they feel, or their climb towards success. But for the celebration of your best friend and their new spouse, keep the topic about them. It's ok to bring up some fun and heartfelt memories but, the story should highlight them in a positive way.
INSINUATION THAT MARRIED LIFE IS BORING AND SINGLE LIFE IS MUCH MORE FUN
The term bros before hoes complete with fist bump should never be uttered in a wedding toast. Regardless of your inseparable bromance with your best friend, today is about the newlyweds. Your best friend's new spouse did something to make them happier than they ever have before. And that is why they are married. Contrary to belief, married life doesn't have to be boring. In marriage, when you love someone, the simplest things in life give a couple joy. Embrace that theory and go with it.
4 LETTER WORDS THAT MAKE GRANDMA TURN RED
We can get colorful when it comes to our vocabulary to describe things that we are passionate about or to create dramatic effect. But, there is a time and place for it. Weddings typically have a very diverse audience from kids to grandparents and everyone in between. Keep it PG
Follow these 5 helpful tips and you'll be on your way to writing a killer wedding toast for your best friend they will enjoy, and you will enjoy telling.
https://www.prymetymeentertainment.net/wp-content/uploads/2015/10/champagne-160864_960_7201.png
720
360
Aaron
https://www.prymetymeentertainment.net/wp-content/uploads/2017/06/sitelogo.png
Aaron
2015-10-29 04:43:40
2016-04-08 03:19:05
How NOT to write a wedding toast.