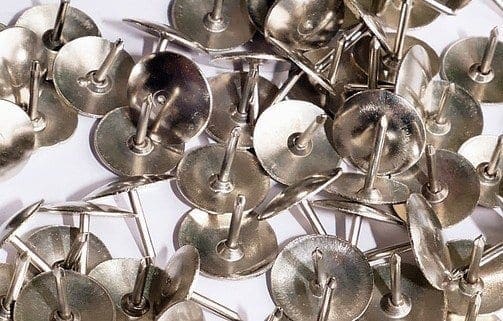 Should I use Thumbtack to find my wedding DJ?
Technology has made it easier than ever to have the world at your fingertips. You can order a pizza and have it delivered to your house, do your grocery shopping, and lots more. But there are some things that require a personal touch that can't be satisfied with a few easy clicks of the mouse.
Thumbtack is a business listing website that connects consumers to companies relevant to services or products they are searching for. So, if you are looking for a wedding dj, how does this pertain to you? It's kinda like priceline but for DJs. Here's how it works.
You sign up for an account and input your contact info. Find a dj in the service directory. Then fill out an inquiry form including the date, location, and budget for your wedding. It asks you if your venue will supply audio and lighting for your event or if it is the responsibility of the DJ. It even asks you if you want a fog machine for your wedding. And last but not least, what kind of music you're in to. You click the submit button and you're on your way to endless emails from DJs trying to outbid each other for your business. Sounds like a dream doesn't it?
Now those criteria might be perfectly acceptable for a 13 year old's birthday party at the VFW, but we're talking about weddings. A pivotal moment in your life where you make the commitment to your fiance for the rest of your life. Something as important as a wedding needs to be handled with care. Imagine your grandma banging her head for 4 hours to some David Guetta like she was at the Ultra Festival in Miami. On second thought, let's not.
The point is, your wedding guest list will be the culmination of a variety of genders, ages, personalities, and music tastes. The first thing that comes to mind when you think of a DJ is the dancing and the music. But when it comes to weddings, your DJ holds a much higher responsibility of keeping things running smoothly and guiding you, your guests, and your wedding team through your wedding day. From introductions to the last dance, every detail great and small is tended to and executed to ensure that you are getting the most out of your reception. In terms of music, the job of your wedding dj is to cater to the masses and ensure that you and your guests young and old have an enjoyable experience throughout the day.
You won't find that kind of dedication, attention to detail or expertise by filling out a generic form and hiring the lowest bidder.
https://www.prymetymeentertainment.net/wp-content/uploads/2015/11/metal-950191_960_7201.jpg
720
503
Aaron
https://www.prymetymeentertainment.net/wp-content/uploads/2017/06/sitelogo.png
Aaron
2015-11-17 05:23:11
2016-05-18 04:33:42
Should I use Thumbtack to find my wedding DJ?